A Prayer for Gathering When Relational Tension Is High
By Ashley Moore
"For we are not fighting against flesh-and-blood enemies, but against evil rulers and authorities of the unseen world, against mighty powers in this dark world, and against evil spirits in the heavenly places." - Ephesians 6:12, NLT
I recently called one of my siblings to ask about holiday gathering plans. I wanted to know if he'd be okay with having the thanksgiving meal at our house this year. The conversation was going great until we began to go over the guest list.
For most, if not all of us, sometimes the holidays can be a source of contention rather than a time of gratitude and joy. Maybe we have wayward loved ones who won't make it home this year for fear of judgment? Or perhaps we have divorced parents who can't stand to be in the same room as each other? Or do political opinions seem to snuff out the holiday spirit, creating a divide in guests?
Families can often be a huge source of relational tension, and the stress of the holidays seems to exacerbate the issue. But what if we started this holiday season off differently by laying some ground rules and adjusting our expectations? What if, as far as it depended on us, we attempted to live at peace with our family like Paul encouraged the church in Romans 12:18?
My counselor taught me to keep the relational tension scale in mind when making holiday plans. Relational tension is measured on a scale from 1-10. Healthy relationships and normalcy can occur between two people if the relational tension is anywhere between 1-3, or maybe 4 at most. Conflict will occur if either party agrees that the relational tension is a 5 or above.
Think about those you will engage with this holiday season and decide if conversations and conflict resolution need to occur before the holidays. If the tension is at 5 or above, then it's safe to assume, if those conversations don't happen beforehand, the holidays risk becoming an unhappy memory in the making. On the other hand, when considering relational tension, if the conflict exists at a 2 (for both parties involved), we can expect that things might get a little tense, but maybe not enough to ruin the entire gathering.
With those things in mind, we can never completely ensure that our holiday gatherings will go perfectly because let's face it, we live in a broken world with broken people who are tainted by sin. But this holiday season, even if you don't know what precautionary measures to take when it comes to your family's relational tension, commit to praying before you gather.
We have a very real adversary who is committed to destroying families (John 10:10). Satan hates to see God's children enjoying and worshiping God by gathering, rejoicing, and celebrating. But God has given us victory over the enemy, and we need to fight back with our spiritual weapons while remembering our battle is not with flesh and blood (Ephesians 6:12).
This holiday season if you do nothing else, remember that your family members are not the enemy and put on every piece of God's armor so you will be able to stand firm against our real enemy's attacks. Finally, pray at all times and on every occasion! (Ephesians 6:13-18).
Let's pray:
Jesus,
Thank you that you have promised and secured for us perfect union with you and our brothers and sisters in Christ for eternity. Lord, help us put on every single piece of your spiritual armor while we live in this broken world full of relational tension. Help us stand our ground by putting on the belt of truth and breastplate of your righteousness. Lord, let our feet be ready with the good news of peace your gospel provides. God let us take up our shields of faith to protect us from the fiery darts of our enemy. God, help us put on our helmets of salvation and to wield our swords of truth (Ephesians 6:13-17).
Lord, help us remember that our battle is not against our family. Lord, we pray that you protect our family, guide our conversations, and make this holiday season glorifying to you! Jesus, will you give us the wisdom to navigate the holidays with grace and kindness that reflects who you are to our family and those onlookers who watch how we interact and wonder if you are worth following. Thank you for the holidays and reminders to take the time to give thanks for all the blessings you pour out on your people.
In Jesus' name, amen.
Photo credit: ©Getty Images/Fantom rd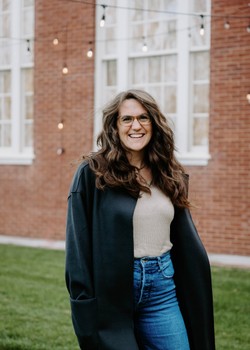 Ashley Moore is a writer and host of be the two™podcast. She is known for her relatability and for passionately writing and speaking about mental, emotional, and relational health from a biblical worldview. She has written for Kingdom Edge Magazine, Guideposts, Crosswalk, The Secret Place, enLIVEn, The Bubbling Brook and more. If Ashley isn't writing, you can find her with her husband, three children, and two floppy-eared Goldens on their south Georgia farmland. The best way to connect with Ashley is to grab a free devotional or Bible study and join her newsletter at free.ashleynicolemoore.com.
Teach Us to Pray is a FREE prayer podcast hosted by iBelieve writer Christina Patterson. Each week, she gives you practical, real-life tips on how to grow your faith and relationship with God through the power of prayer. To listen to her episode on What to Pray in the Morning for a Worry-Free Day, click below!


Now that you've prayed, are you in need of someone to pray for YOU? Click the button below!
Visit iBelieve.com for more inspiring prayer content.
Read More Your Daily Prayer