A Prayer to Seek First the Kingdom of God
By Kristine Brown
"But seek first the kingdom of God and his righteousness, and all these things will be added to you." (Matthew 6:33 ESV)
Rising food prices and empty store shelves. The cost of gasoline and cutbacks in many businesses. World changes affect all of us. It's enough to rattle our nerves and cause fear in our hearts. We want to spend wisely, make good decisions, and prioritize what matters most. But the truth is, many of us don't even know if we have the means for next week's groceries.
When things we count on collapse around us, we focus our strength and attention on our immediate needs. We may take on extra work, cancel family vacations, or just ignore the problem and hope it goes away. We do what we can for a temporary fix, and soon we realize we're spiritually depleted and out of sync.
Jesus knew his followers would struggle with trusting God in uncertain times. In his famous Sermon on the Mount, Jesus cautioned believers against worrying about such things. He knew the key to an abundant, peace-filled life and shared it with all who would listen.
"But seek first the kingdom of God and his righteousness, and all these things will be added to you." (Matthew 6:33 ESV)
Isn't it comforting to know that even today, we struggle with the same fears and worries as those who stood before Jesus when he preached his powerful message? Jesus' words penetrated hearts that day, and they will do the same for us. All we need to do is seek Jesus first.
Maybe worrying over daily provision isn't what makes you feel unsure. Maybe it's worrying about a family member or a difficult diagnosis. Maybe you've strived for so long to create a life that "represents Jesus" that you've missed seeing him. I've been there, too, and I'm glad to say there is hope. Finding the balance we need begins with a simple yet life-changing refocus.
Seeking God's Kingdom before anything else is the crucial step to finding the right balance in our lives, regardless of the turmoil around us. When we "fix our eyes" on Jesus, all other things pulling for our attention will settle into their proper place. Our off-balance lives will feel more centered. More at peace. Seeking first the kingdom of God will put our focus into perfect alignment.
Let's pray:
Dear Lord,
Thank you for understanding our hurts. Thank you for caring about the condition of our hearts and listening when we pray. You are a loving, compassionate Savior.
Jesus, lately, I've felt off-balance. Fear and worry over our present circumstances and our future affect my ability to find peace and joy. There are so many issues in this world. Yet you knew we would struggle with this, so you spoke words that offer hope. We have those words recorded in the Bible to remind us to seek your Kingdom first (Matthew 6:33). When we do, everything else will fall into place. Thank you for the Bible. Thank you for meeting our every need as we focus on you.
Help us read your Words in Scripture as though you are right here with us, speaking to us personally because you are. Help us focus on you first every day by starting each morning in prayer. You know what we will face today, and we trust you to provide. Thank you for giving us hope. May your will be done in our lives today and every day. In your holy name, we pray, amen.
Photo credit: ©GettyImages/Javier_Art_Photography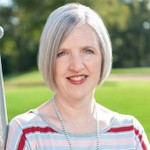 For more spiritual growth resources, check out the 5-day email study Walking with Rahab by today's devotion writer, Kristine Brown. You'll find weekly encouragement to help you "become more than yourself through God's Word" at her website, kristinebrown.net. Kristine is the author of the book, Cinched: Living with Unwavering Trust in an Unfailing God, and the companion workbook.
LISTEN to More Christmas Prayers on LifeAudio
Teach Us to Pray is a FREE prayer podcast hosted by iBelieve writer Christina Patterson. Each week, she gives you practical, real-life tips on how to grow your faith and relationship with God through the power of prayer. To listen to her episode on What to Pray in the Morning for a Worry-Free Day, click below!

Now that you've prayed, are you in need of someone to pray for YOU? Click the button below!
Visit iBelieve.com for more inspiring prayer content.
Read More Your Daily Prayer