A Prayer for True Knowledge.
By Meg Bucher
"If you need wisdom, ask our generous God, and he will give it to you. He will not rebuke you for asking." James 1:5 NLT
The moment I opened my mouth to speak, words started to fly out of another person's mouth. Surely there would be a pause …a breath …a break in conversation. As soon as I anticipated a stop, I took a deep breath and …was interrupted before I could get a full sentence out. Deflated, I waited again. Finally, I was able to ask my question. Immediately, I regretted it.
Everyone knows someone who knows a know-it-all. God really does know it all, but He doesn't make us feel foolish for asking Him questions. Maybe even things we've asked several times before. God is compassionate. Our Savior, Jesus, is empathetic toward us. Empathy means a wise understanding of what another person is going through. Many people say, "I know how you feel." Jesus actually knows.
James is reminding us in the verse above to ask God! He is generous! Questions build strong faith and initiate good conversations. God loves talking with us through prayer and Scripture, worship, and the beauty of His creation. "Christ is called 'the wisdom of God," the NIV Exhaustive Concordance Dictionary explains, "On the basis of the OT, wisdom can be personified." Paul wrote to the Corinthians:
"To those whom God has called, both Jews and Greeks, Christ the power of God and the wisdom of God." 1 Corinthians 1:24 NLT
We are never alone, for the Holy Spirit lives within every believer of Christ. "It is because of him that you are in Christ Jesus," Paul wrote, "who has become for us the wisdom from God- that is, our righteousness, holiness and redemption." (1 Corinthians 1:30 NLT) When we seek more of God, we will find Him.
Let's pray:
Father,
Praise You, God! You are the One, True, Triune God! Father, Son, and Holy Spirit, You are all-knowing, everywhere, and always in control. Though our perspective of the world is that it's out of control, we know You are sovereign over all. Even when we cannot feel you working, God, we know You are faithful, compassionate, just, and merciful. Your grace is sufficient for us, God! We know this all too well!
Thank You for the gift of knowledge, Father. We are grateful we get to come to You with questions and needs. You are our Healer, Provider, Creator, Loving Father, and Generous God. We appreciate Your patience with us, Father! How many times do we interrupt You when You are trying to help us figure something out or share a piece of wisdom with us? Help us to pause in those moments, Father. Convict our hearts to be sensitive when You are trying to speak to us.
Give us empathy and compassion for the know-it-alls in our lives, God. And patience! Father, we are supposed to love one another, not only when it's convenient and beneficial but also when we are annoyed, out of time, and uninterested in listening to our adversaries. Help us to see people through Your eyes, Father. Give us a wise perspective in life, and an obedient heart to follow Your lead. When we need the courage to be assertive and speak the truth in love, help us to find the strength to do so! Remind us of Who we are filled with, Your Holy Spirit!
Jesus, thank You for coming to earth willingly, as the Father sent You, to sacrifice Your life for ours. We can hardly talk about praying for wisdom without remembering You, the Living Word of God. Thank You for sending Your Holy Spirit to help us along the way. We are so thankful to you, Holy Spirit, for helping us understand Scripture and what's going on around us. We pray for a fresh filling of Your Holy Spirit today, Father. We want to see the world and navigate daily life as You will. In order to follow You, we understand we have to submit and surrender, even when we don't fully understand what is happening or what to do next. Make Your next steps in our lives clear, Father.
Protect us from evil, and we pray to remain humble and patient listeners, Father, not only to You and Your word but the people You have so purposefully placed in our lives. Let us be wise and knowledgable stewards of everything You have given us to pursue and do on this earth, Lord, for Your glory.
In Jesus' Name,
Amen.
Additional resources: NIV Exhaustive Concordance Dictionary. Copyright © 2015 by Zondervan.
Photo credit: ©Playbackmedia.com/sparrowstock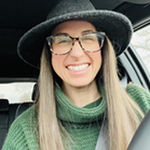 Meg writes about everyday life within the love of Christ. Join her on the journey as she launches her new site Joy Overflowing, or join her longstanding community at Sunny&80. She is also the author of "Friends with Everyone, Friendship within the Love of Christ," "Surface, Unlocking the Gift of Sensitivity," and "Glory Up, The Everyday Pursuit of Praise," and "Home, Finding Our Identity in Christ." She earned a Marketing/PR degree from Ashland University, but stepped out of the business world to stay home and raise her two daughters …which led her to pursue her writing passion. A contributing writer for Salem Media since 2016, Meg is now thrilled to be a part of the editorial team. Always active in her community and the local church, Meg also leads Bible study and serves as a leader for teen girls.

Teach Us to Pray is a FREE prayer podcast hosted by iBelieve writer Christina Patterson. Each week, she gives you practical, real-life tips on how to grow your faith and relationship with God through the power of prayer. To listen to her episode on What to Pray in the Morning for a Worry-Free Day, click below!


Now that you've prayed, are you in need of someone to pray for YOU? Click the button below!
Visit iBelieve.com for more inspiring prayer content.
Read More Your Daily Prayer