The soul that has come to know the Lord will display evidence of this Holy union by keeping His commandments.  There is a beautiful picture given of this in the meaning of the word keep as used in this verse.  To "keep" means to steer as in the steering of a ship.  Every child of God, those who have come to believe on His Son Jesus Christ, will steer their lives by His Word, by His commandments.  They will not sail into sinful waters for they are charting their course by God's desires and not their own.  The very Word of God becomes their compass setting the course of their life in the direction that will bring them through the waters He has for them to cross.  It will be a safeguard for every child to keep them from turning in the wrong direction.  We cannot direct our life or base our decisions by worldly philosophies, the opinions of man, the news, the condition of the economy, our family, not even our pastor or church, but only by the Word of God.
Sometimes our ship is blown of course but the Word of God will correct our course to realign us back with His will.  If one is not setting their life's direction, decisions, and thinking by the Holy Scriptures then God tells us that they have not come to know His Son.  We cannot profess to be a follower of Jesus Christ and have no regard for His Word.  Those who love Him will keep His Word, they will love His commandments because they are pleasing to Him.  Many today claim to belong to the Holy One but do not adhere to His Word, the Bible.  The two are inseparable beloved; you cannot have one without the other.  They are one!  "The one who joins himself to the Lord is one spirit with Him" I Corinthians 6:17.
Are you God's child?  Do you have concerns today?  Are there decisions pressing upon you that you must make but you don't know what to do?  Have you sailed your ship into sinful waters?  Have the opinions and beliefs of others swayed you from God's opinions and God's ways?  Are you living in rebellion this hour to what you know God would have you do?  As God's child, we can and will find ourselves occasionally in sinful waters but our ship will never be content to stay there.  We must re-raise our sails and catch the wind that will lead us back to where God wants us.  This wind is the power, sustenance, comfort, strength, correction, discipline, wisdom and direction that come from God's Word.  Line up your life with God's Word so the world will know that you belong to Him and have come to believe upon His marvelous saving Son.  May you be able to say with those who have sailed the waters of God before us, "Therefore  also we have as our ambition, whether at home or absent, to be pleasing to Him" (II Corinthians 5:9)
Make my life  living proof of whom I belong to, may my title read, "belonging to Jesus."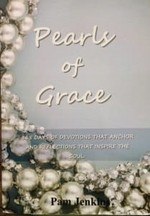 Pearls of Grace Devotional Book
Pearls of Grace is a book of devotions for the entire year, including a read through the Bible in a year calendar, broken down for every day. Beautifully written with encouraging words of hope and empowering words of joy and strength for every woman. Pam draws from the truth and richness of God's Word and gives real life examples in her down to earth style. A must have in your library, click here for more information.
For more from Pam Jenkins and Jabbok Ministries, please visit www.jabbokministries.com!
Listen to Pam Jenkins's daily broadcast on OnePlace.com.
For more from Pam Jenkins and Jabbok Ministries, please visit www.jabbokministries.com!
Listen to Pam Jenkins's daily broadcast on OnePlace.com.