Before I surrendered my life to Jesus, I made every attempt to dodge the Lord's advances toward me.  I believed in God and His Son, Jesus Christ, but my surrender to Him did not come until I was about to graduate from high school.  There were so many reasons I had not given my life to God; the main one being the young fellow I was dating.  I was comfortable with my life and the circle of worldly friends I had come to know.  I could do whatever I wanted, which I usually did.  I didn't have to think about the future or my past; only to live for the pleasure of the moment. I genuinely believed that I was happy for the most part, and I had no doubt that my life would turn out just like a fairy tale, prince and all.  After all, aren't all destined to live happily ever after?   Sad to say, but in my naïve thinking, I had swallowed the lie of the devil; you can find happiness apart from God.
Sometimes our dreams and our self-indulging theologies will become the very things that keep us from the life God intends for us to have.  It wasn't until I became so unhappy in my "happy" world that I went looking for God.  The consequences of my sinful living were bearing fruit and I didn't like the taste of it! I faced a hard reality at the age of 17.  I was the enemy of my own soul and didn't even know it.  It had not been the devil or even others, but rather, it had been me all along bringing misery to myself.  But God, in the midst of my misery, began pouring out waves of conviction upon my soul and drawing me with a force that was irresistible.  Finally, when I could bear it no longer, I ran to Him, and collapsing before His throne of grace, I surrendered all of Pam to God.
I still take my mind's eye back to that sweet little church whose altar became my doorway to Heaven's throne of redemption.  I met Jesus that day; deep down in my soul met Him.  And I have never been the same.  My life has known such unspeakable fellowship and joy with Him and everyday of my life He has been with me.  He reached down, and there in that country church, I laid hold of eternity and it laid hold of me.   I gave Him all my failures, my sins and hurts, every bit of my broken life.  This encounter was a rebirthing and although I had no idea what lay ahead, I had no doubt that the future was secure for me. He is forever mine.  How marvelous is the captivating beauty of God's love for us.  His unreachable, magnificent presence pursues each and everyone of us as if we were the only soul upon the face of His earth.  What marvel His flight from Heaven, soaring across the sinful lands that He may sweep in upon the prey of His heart.  God's grace is too radical for definition and when it sets out to capture a soul, there are no qualifications needed to respond favorably.
Your surrender day to Jesus is only the beginning of a greater journey to take.  Every day of your saved life, He has been preparing you to take this journey.  It's the journey to Him, your flight to Heaven.  This day will come quickly for those who are not ready.  But make no mistake about it, He is coming for you.  I pray you will keep surrendering every day to Jesus, giving Him all of you.  Hold nothing back from Him for He has held nothing back from us.
Prepare for take off.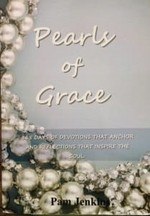 Pearls of Grace Devotional Book
Pearls of Grace is a book of devotions for the entire year, including a read through the Bible in a year calendar, broken down for every day. Beautifully written with encouraging words of hope and empowering words of joy and strength for every woman. Pam draws from the truth and richness of God's Word and gives real life examples in her down to earth style. A must have in your library, click here for more information.
For more from Pam Jenkins and Jabbok Ministries, please visit www.jabbokministries.com!
Listen to Pam Jenkins's daily broadcast on OnePlace.com.
For more from Pam Jenkins and Jabbok Ministries, please visit www.jabbokministries.com!
Listen to Pam Jenkins's daily broadcast on OnePlace.com.