One of my greatest desires was to travel to Israel and that became a reality a couple of years ago.  I was able to gaze on the sea where He walked on the water, fed the thousands, agonized in the Garden, bled and died on an old rugged cross, and then I stepped into the empty tomb to see where His body once laid.  I was able to walk where my Lord walked retracing His steps through every city, every village, and every path on our tour.  I believe it's His footsteps, His lingering presence that makes the land of Israel holy ground.  It's undeniable His mark upon this land.  God will always leave His mark upon that which belongs to Him.  He goes before you, His beloved. There is no place that you will ever find yourself that God has not already been there ahead of you. He is a forerunner who goes before us in sovereignty and power, pouring forth grace and mercy for us to draw upon when we arrive.
God never intends for us to tread upon ground that He Himself has not walked first. Although our finite minds cannot begin to grasp this concept, herein lays a powerful, life changing truth. Whatever lies before you, He has already arrived long before it will ever take place.  He is a God that is not restrained, restricted, or confined by time and space.  He is already working in your future, preparing, and operating in what is ahead of you because He is a God of the future, not the past.  He works in the present to accomplish His will in the future.  He is the master planner.  This removes all fear of the future for us, precious one.  Because God is in our future we can run with great anticipation, unhindered, and unrestricted, knowing we are running right into Daddy's arms.  It is here in these mighty paternal arms that we are secure, rescued, loved, and cared for.
He is before all things and in Him and only Him all things hold together.  Have you ever faced or feared facing something you knew was ahead of you, wondering how you were going to hold yourself together through it?  This is the love of your Father in that He promises in His Word to not only go before you, but to hold you together when you get there because in Him all things hold together!  What a Father we have, beloved.  He is a planner and His eye is ever upon your future, so you and I need not to fear what is coming. Because He goes before us, nothing can ever take Him by surprise. I believe there are two words that are not in God's vocabulary, "Uh oh."  He's a holy God who is always prepared.  He is never ever caught off guard by anything.
Whatever place you find yourself in today, look for God there.  It's familiar ground to Him for you are walking, passing through a place that He Himself has already been.  He arrived long before you in order to prepare for your arrival.  He has placed there everything you will need, and He will hold you together as you pass through it.  Ground that He has passed through is marked as holy ground and holy ground is laid in order to display His glory and to reveal His will.  It is here that we remove the sandals of the flesh bowing with humble heart in recognizing that it is His presence that beckoned us to this most sacred place.  Acknowledge Him in your situation this moment and watch your life blaze with glory and honor to the Holy One.  You are walking on Holy Ground today, beloved.
Show Me The FootPrints Of The Father That I May Walk In Holiness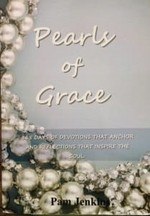 Pearls of Grace Devotional Book
Pearls of Grace is a book of devotions for the entire year, including a read through the Bible in a year calendar, broken down for every day. Beautifully written with encouraging words of hope and empowering words of joy and strength for every woman. Pam draws from the truth and richness of God's Word and gives real life examples in her down to earth style. A must have in your library, click here for more information.
For more from Pam Jenkins and Jabbok Ministries, please visit www.jabbokministries.com!
Listen to Pam Jenkins's daily broadcast on OnePlace.com.
For more from Pam Jenkins and Jabbok Ministries, please visit www.jabbokministries.com!
Listen to Pam Jenkins's daily broadcast on OnePlace.com.