It's been said, "A clear conscience is the world's most comfortable pillow".  Guilt, shame, fear, are all feelings that will cause us to suddenly have the need to hide from others, especially God.  These emotions are the catalyst of disunity, isolation, loneliness and even separation from God altogether.  If we are hiding anything that is not right in the eyes of God, we will not only find ourselves avoiding Him, but people as well.  It's the weight of hidden sin and the effort it takes to conceal it that will eventually take its toll upon us.  Divine intimacy is our greatest loss when we allow or tolerate sin on any level in our life.  It eats away at us on the inside until peace is completely lost and when peace cannot be found, we give into hopelessness and further sin is unavoidable.
God doesn't want His child to have to endure this kind of living.  He designed us to live in the Light and when that Light is missing, we suffer the loss of all that comes from the life He created us to live which He established in the Garden of Eden.  The simplicity of the Garden of Eden living is nothing more than one choice and one choice alone: choosing to obey God.  Obedience is what keeps dialogue with God open and it also guards the blessings available to us.  One choice to act contrary to God's will is the step that takes us outside the land of blessing and takes a toll on our conscience.  It's a single choice that can rob us of everything good and plentiful and just one single choice can remove it from our life.  Whether we realize it or not, God provided the good and perfect life and then freely gave it to us but He left the keeping of it to us.  We determine if it will remain or not.
Is your conscience clear today?  In the mind of our being, we have the ability to store up a lot of stuff, a lot of memories, decisions, hurts and disappointments.  It's spiritually healthy to take an inventory of what's in storage to make sure we don't need to clean the house of our conscience of some things.  Whatever the weight of your storehouse of memories, be it light or heavy, take it before God and let Him place upon His scales of righteousness.  Once the weight is in, then make the necessary changes to bring peace to your memories.  We will never move forward with God until our conscience is on board!
Clear conscience…clear path.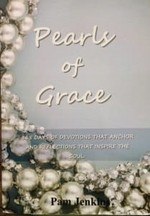 Pearls of Grace Devotional Book
Pearls of Grace is a book of devotions for the entire year, including a read through the Bible in a year calendar, broken down for every day. Beautifully written with encouraging words of hope and empowering words of joy and strength for every woman. Pam draws from the truth and richness of God's Word and gives real life examples in her down to earth style. A must have in your library, click here for more information.
For more from Pam Jenkins and Jabbok Ministries, please visit www.jabbokministries.com!
Listen to Pam Jenkins's daily broadcast on OnePlace.com.
For more from Pam Jenkins and Jabbok Ministries, please visit www.jabbokministries.com!
Listen to Pam Jenkins's daily broadcast on OnePlace.com.